Every revolution, every genocide, has its soundtrack  ★ 
Every revolution, every genocide, has its soundtrack  ★ 
Every revolution, every genocide, has its soundtrack  ★ 
Every revolution, every genocide, has its soundtrack  ★ 
Every revolution, every genocide, has its soundtrack  ★ 
Every revolution, every genocide, has its soundtrack  ★ 
Every revolution, every genocide, has its soundtrack  ★ 
Every revolution, every genocide, has its soundtrack  ★ 
Every revolution, every genocide, has its soundtrack  ★ 
Every revolution, every genocide, has its soundtrack  ★ 
Every revolution, every genocide, has its soundtrack  ★ 
Every revolution, every genocide, has its soundtrack  ★ 
Every revolution, every genocide, has its soundtrack  ★ 
Every revolution, every genocide, has its soundtrack  ★ 
Every revolution, every genocide, has its soundtrack  ★ 
Every revolution, every genocide, has its soundtrack  ★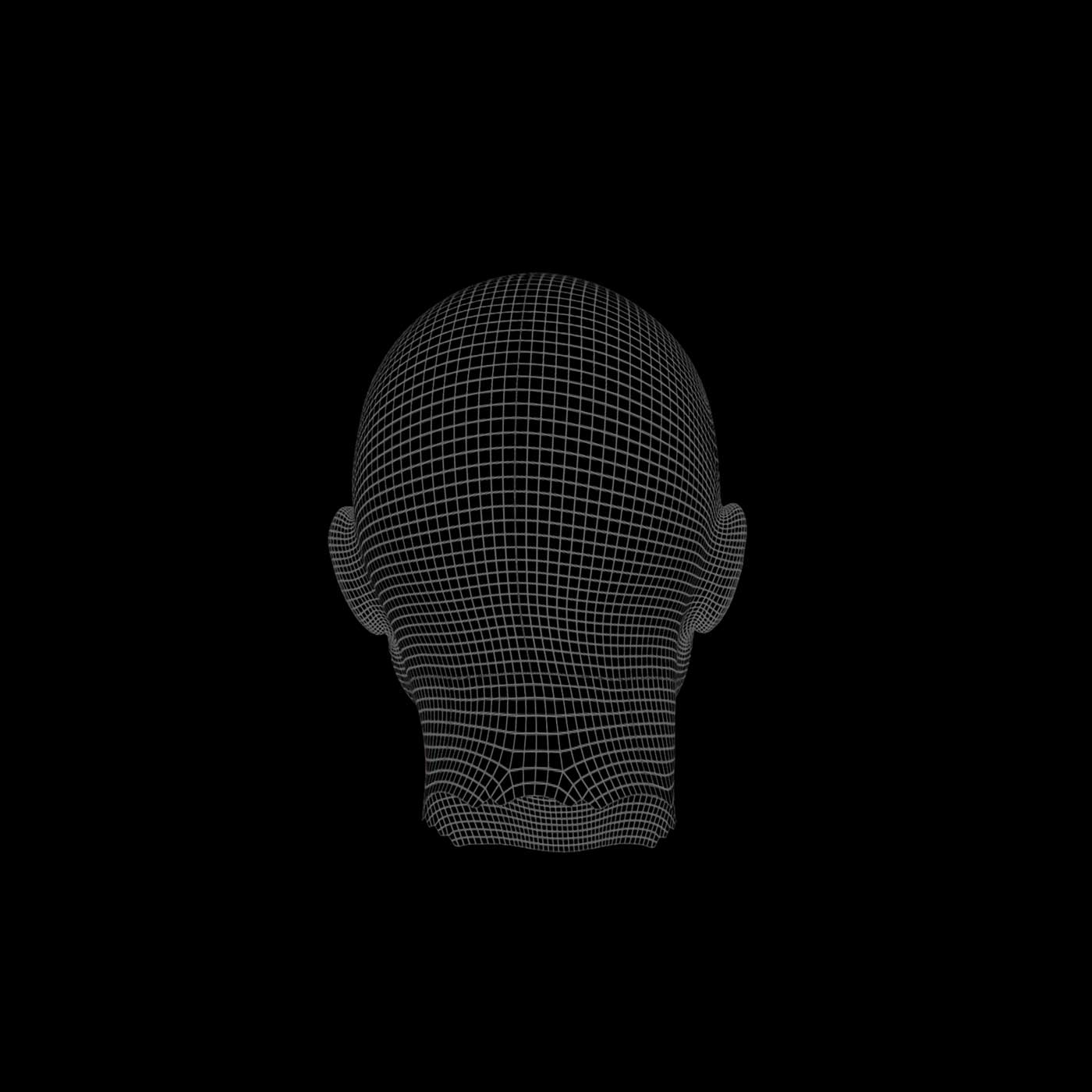 A performance by visual artist and filmmaker Jelena Jureša. With Ivana Jozić and music by Alen and Nenad Sinkauz.
A production by KAAP in collaboration with ROBIN.
Co-produced by Kunstenfestivaldesarts, ROBIN, De Singel, Workspacebrussels, Hannah Arendt Institute. Developed in Co-laBo.
Supported by Vlaamse Overheid, Royal Academy of Fine Arts (KASK)/School of Arts of University College Ghent and MOUSSEM – Nomadic Art Centre.
Aphasia, the title of Jelena Jureša's new creation, refers in medical terms to the inability to speak or find the right words. In her work she focuses on the absurdity that arises from the collective silence surrounding crimes and the fragmentation and compartmentalization of historical events.
The moral standpoint we occupy as distant witnesses, judging the psychology of an individual faced with war or societal havoc, rests on the ability to distinguish between good and evil. However, under distinctive circumstances and severe social pressure, ordinary people can commit the most unimaginable crimes.
Aphasia performance is developed at the intersection of music, film, storytelling, and dance. Immersed in the atmosphere of a (post-war-zone)nightclub, the audience physically participates in an intimate investigation of violence, the world of perpetrators, bystanders, and individual responsibility. One can imagine the audience's attention gradually shifting from an archival film, to a DJ set, to a dance solo, to an integrated concert, intersected by the interventions of the female narrator who ponders about the "monsters and us". 
Whispers, rumours on perpetration and standing by, complicity and violence; every revolution, every genocide, has its soundtrack.
APHASIA, Kunstenfestivaldesarts, Brussels 2022. Photos by: Jelena Kovačević Vorgučin
The point of departure in the performance development is an anecdote about DJ Max. A pioneer of electronic music in Belgrade, and protagonist in one of the most infamous photos of the war in Bosnia – where he is seen kicking in the head a dead Muslim woman previously killed by Serbian paramilitary forces. Millions of people have seen it. It was taken by the American photographer Ron Haviv and published worldwide. Sontag wrote about it, Godard made a short film about it and journalists have cited it as a photo that shows everything you need to know about the war. 
After the war, Haviv's photographs became part of a large collection of photographic and video material consulted as evidence—frequently of critical importance—in criminal prosecutions at the International Criminal Tribunal for the former Yugoslavia in The Hague. Several court proceedings, starting with the trial against Slobodan Milošević, called on the photo as evidence to establish the command responsibility of the Serbian authorities for the crimes committed in the former Yugoslavia. Several witnesses would identify the soldier as Srđan Golubović, a former member of the Serbian Volunteer Guard, known as Max on the battlefield and DJ Max in Belgrade.
In his only interview, DJ Max says he is from a nice part of Belgrade. He tells the interviewer that if he were sentenced to death and had only one phone call, he would call his mother. And that, of all his flaws, his worst is that he cannot wake up in the morning and is grumpy till noon. It was early afternoon when he kicked the dead woman on the pavement. In the interview, he does not mention that he was in the war. When the interviewer asks, "Who is DJ Max? Who are you?", he replies, "A kid from the neighbourhood."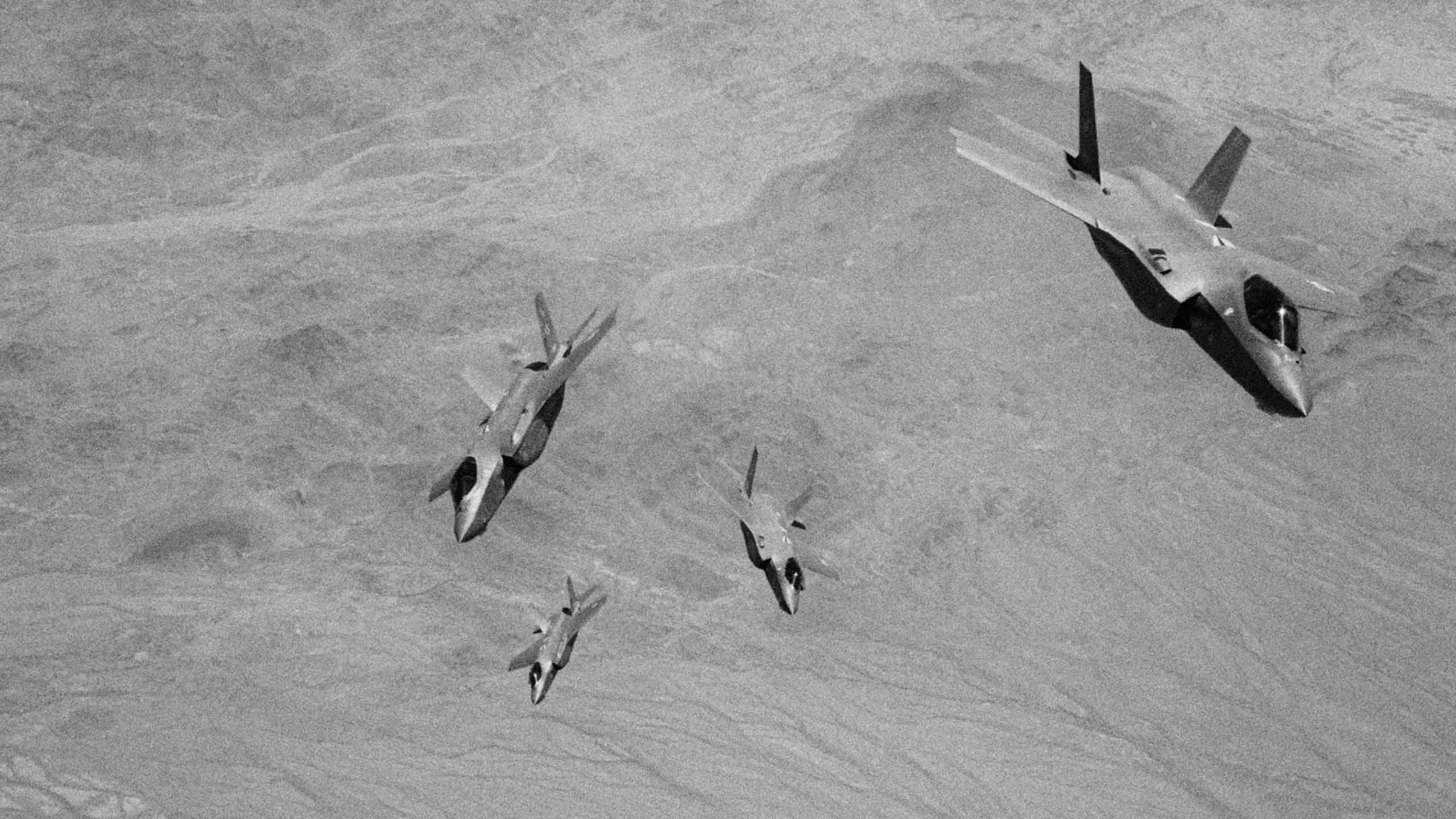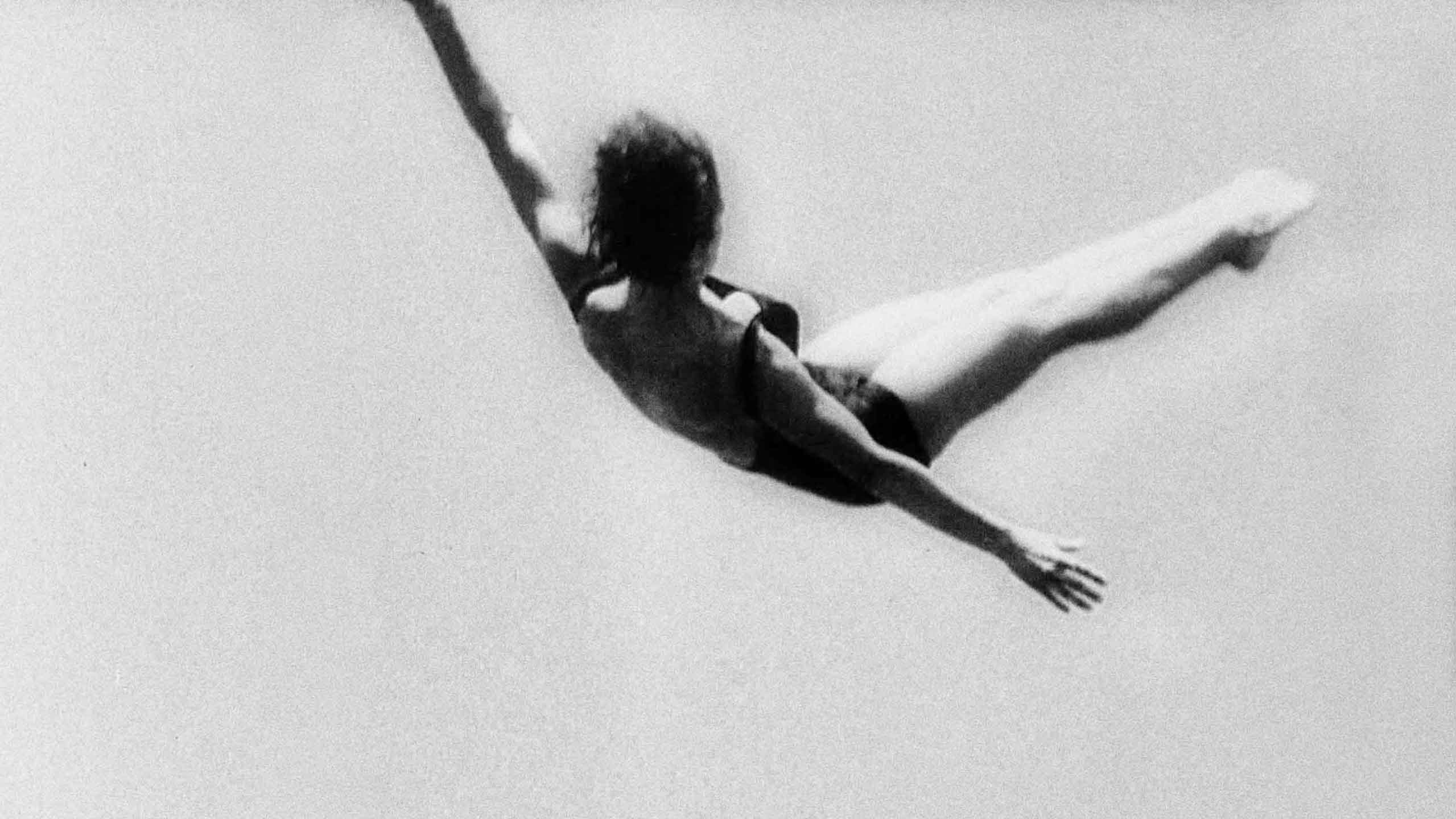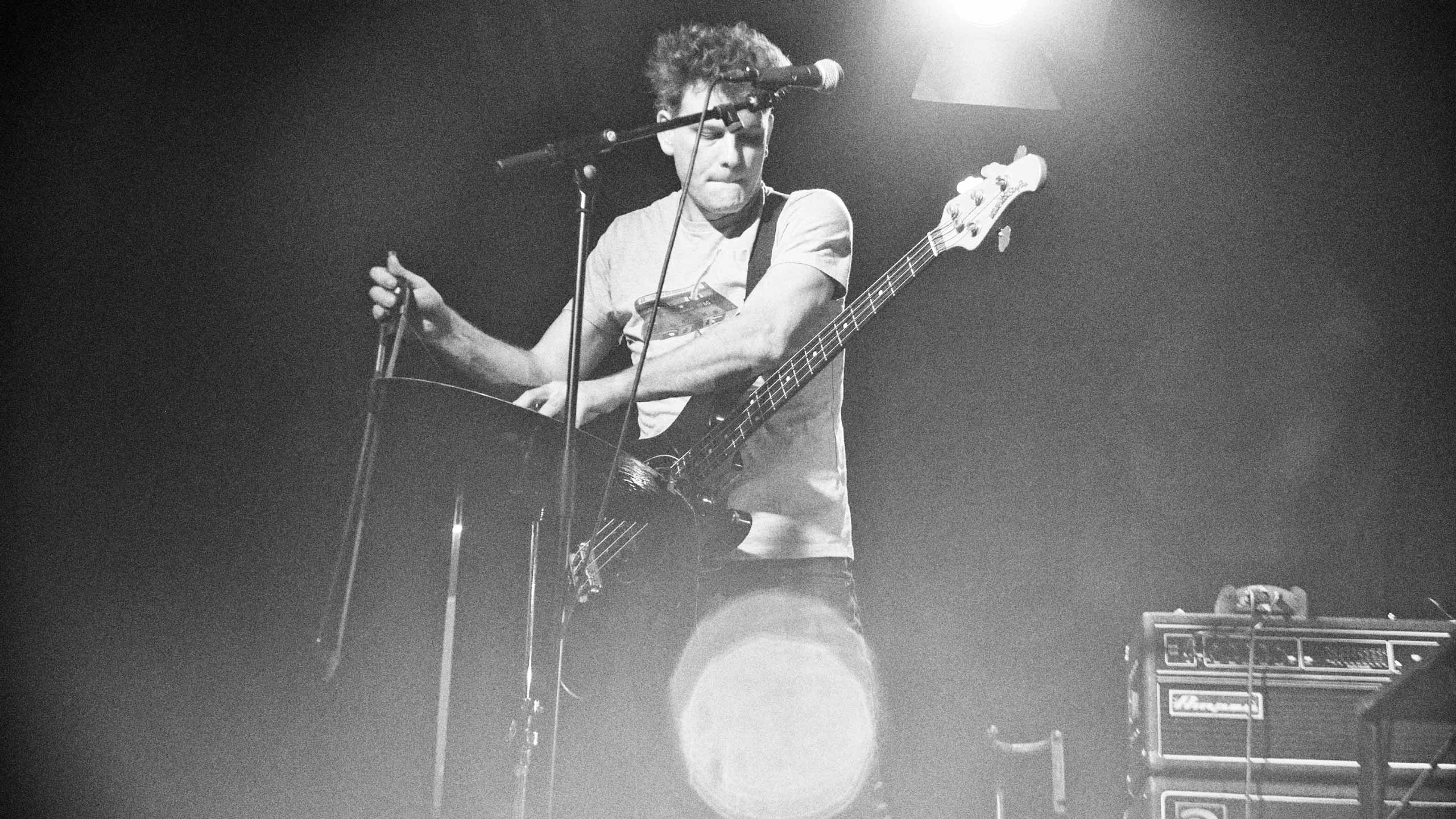 This performance is developed from the film project APHASIA, 2019.
CONCEPT & DIRECTION
Jelena Jureša
CREATED WITH AND PERFORMED BY
Ivana Jozić, Alen Sinkauz, Nenad Sinkauz
MUSIC
Alen and Nenad Sinkauz
CHOREOGRAPHY
Ivana Jozić & Quan Bui Ngoc
TEXT ADAPTATION
Asa Mendelsohn, based on a monologue by Barbara Matejčić (Aphasia film and film installation, 2019)
DRAMATURGICAL ADVICE
Thomas Bellinck & Sara Oklobdžija
VIDEO CONCEPT & EDITING
Jelena Jureša
VISUAL EFFECTS
Dejan Šolajić
SOUND DESIGN
Hrvoje Pelicarić
STAGE DESIGN
Stef Stessel
LIGHT DESIGN
Stef Stessel and Simon Neels
COSTUME DESIGN
Anne-Catherine Kunz
COSTUMES REALISATION
Salvatore Pascapè
FILM ARCHIVE
Royal Belgian Film Archive (CINEMATEK), Brussels; Filmarchiv Austria, Vienna; International Criminal Tribunal for the former Yugoslavia (ICTY), The Hague; Österreichische Mediathek, Vienna; ZDF archive Berlin…
VOICE COACH
Patrick Campbell
SCIENTIFIC ADVICE
Christophe Busch
TECHNICAL DIRECTOR
Simon Neels
TECHNICAL SUPPORT
Maxim Maes
PROGRAMMING
Merel Vercoutere (KAAP)
PROJECT COORDINATORS
Sandra Raes Oklobdžija (ROBIN) & Rolf Quaghebeur (KAAP)
PRODUCTION SUPPORT
Kaat Balfoort, Jachym Vandenabeele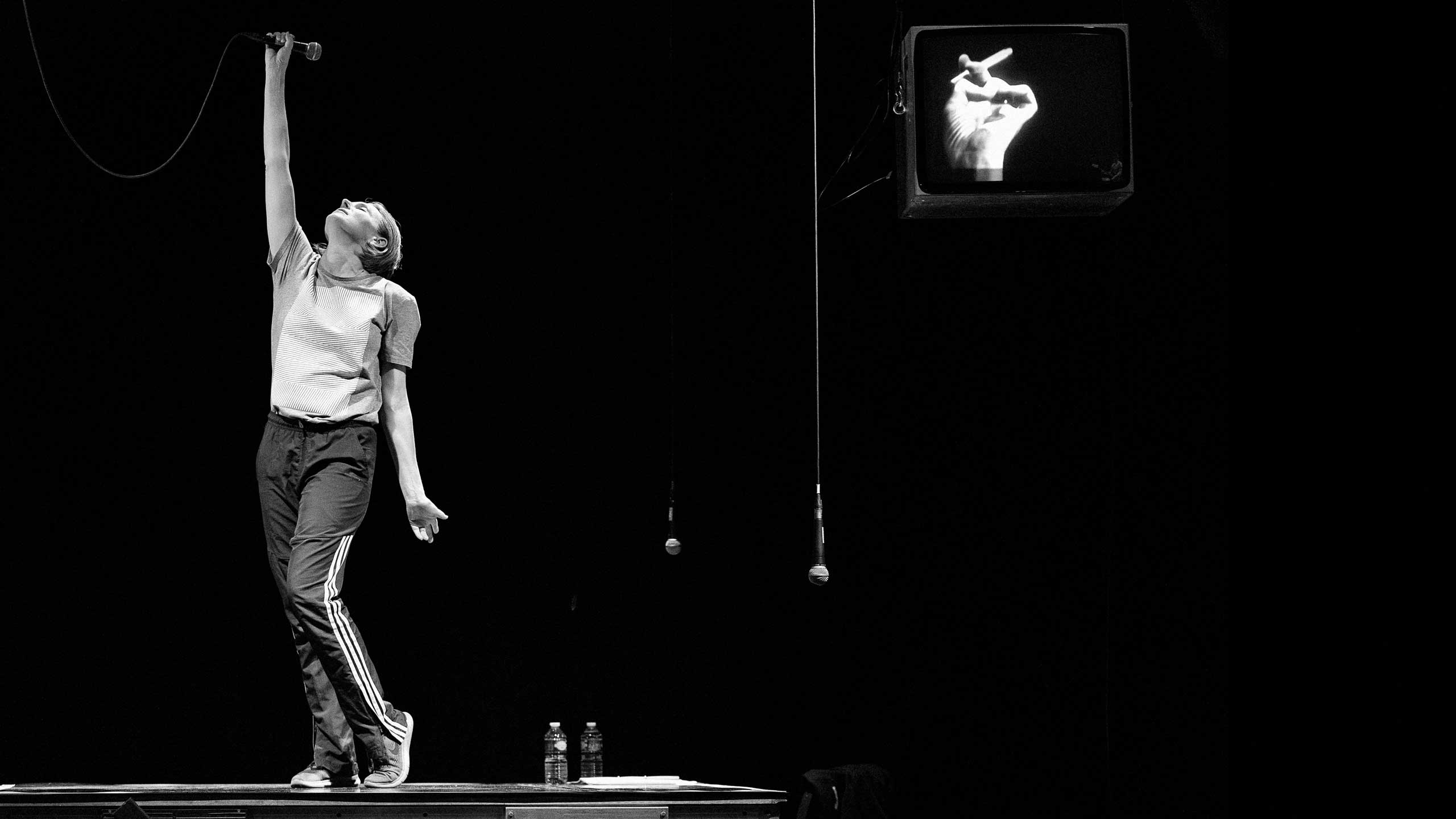 APHASIA, rehearsal photo by Koen Keppens. In the photo: Ivana Jozić
APHASIA performance is developed from an eponymous film project, which Jelena Jureša developed in the course of several years. The film(installation) Aphasia is an unsettling inquiry into the representation of violence and the violence of representation, a highly corporeal documentary gesture in several movements that is deeply personal, political, and perpetually timely. This documentary gesture explores how collective crimes keep being repeated and reflects on social and political constellations, unfolding constructions behind nation-states and national identities. From the Belgian colonialism in the first act and the Austrian race experiments and Heimat films in the second, to the third act that brings to life the well-known photograph, taken at the beginning of the war in Bosnia.
The film was produced by Argos centre for audiovisual arts, where it was exhibited in a solo exhibition in 2019, when the book of the same title was published. Production of the film was generously supported by Contour Biennale, KASK School of Arts and Flanders Audio Visual Fund (VAF). In the past two years, Aphasia has been shown at Contour Biennale in Mechelen, at Cinematek, Brussels as part of Figures of Dissent: Cinema of Politics, Politics of Cinema, at the Museum of Contemporary Art in Zagreb, DocLisboa, Kunstverein in Hamburg, Fotomuseum Antwerpen, MHKA – De Cinema, and at the 23rd Ji.hlava IDFF where it won the main award within the First Lights section.
A crucial motivation in Jureša's choice of a stage production lies in the fact that she wants to focus more deeply on the notion of the perpetrator, and complicity, by experimenting live with the position of the bystander. What does it mean to witness something? In a disturbing nightclub-like setting, we engage directly with the spectators and engage them with questions about group dynamics, polarisation, and obedience to authority. Through theatrical seduction tools—live music set by Alen and Nenad Sinkauz, and the performance and dance move by Ivana Jozić—Aphasia team is focusing on the seduction mechanisms on which populism feeds: suddenly, everything appear possible, anything is allowed, like kicking off shoes that are too tight.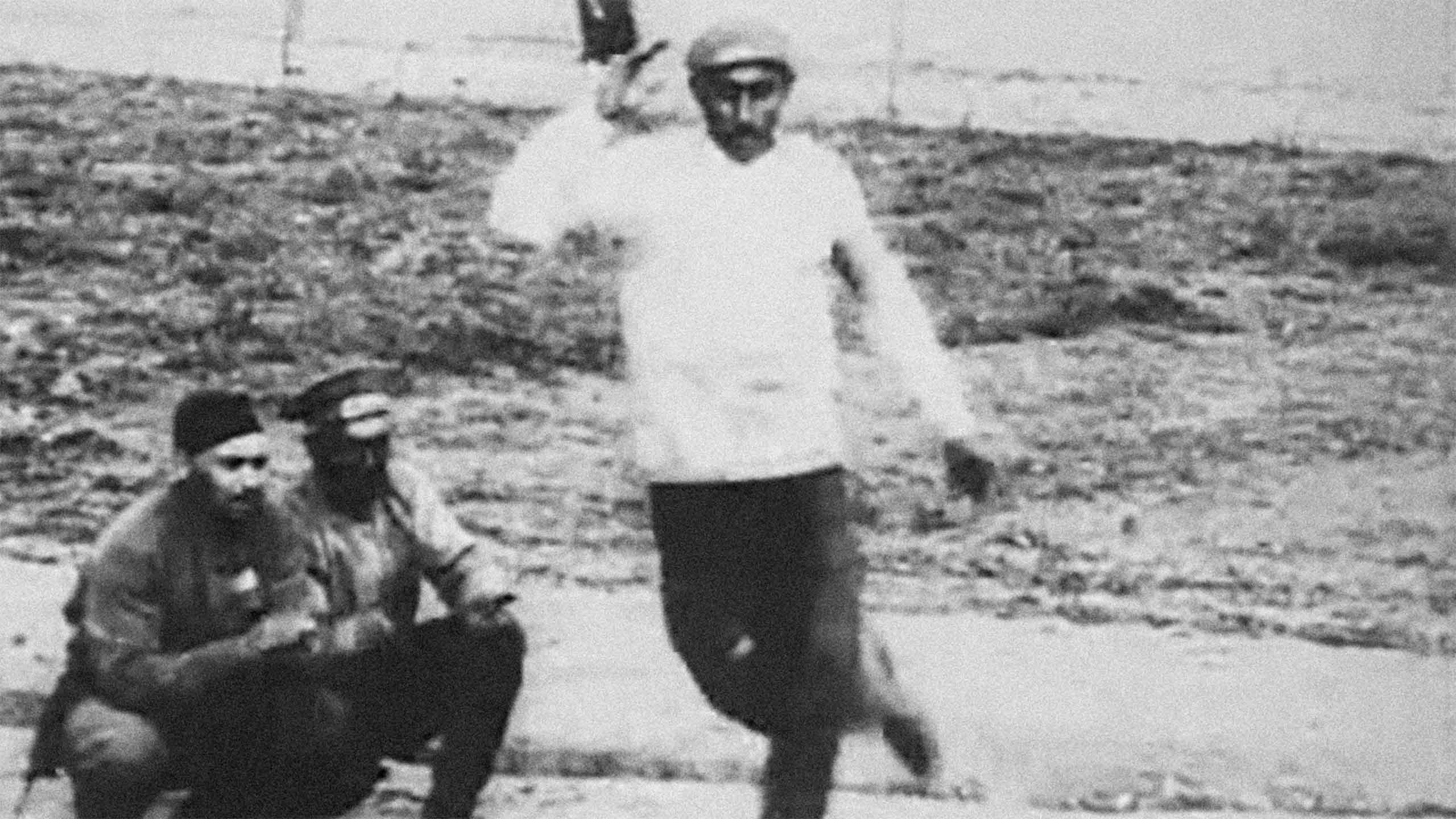 PRODUCER
KAAP in collaboration with ROBIN
COPRODUCERS
Kunstenfestivaldesarts
ROBIN
De Singel
Workspacebrussels
Hannah Arendt Institute
Developed in Co-laBo
WITH THE SUPPORT OF
Vlaamse Overheid
Royal Academy of Fine Arts (KASK), School of Arts of University College Ghent
MOUSSEM, Nomadic Art Centre
PRESENTATION PARTNERS
Kunstenfestivaldesarts
Kaaitheater, Brussels
Kunstencentrum nona, Mechelen
Brakke Grond, Amsterdam
STUK, Leuven
De Singel, Antwerpen